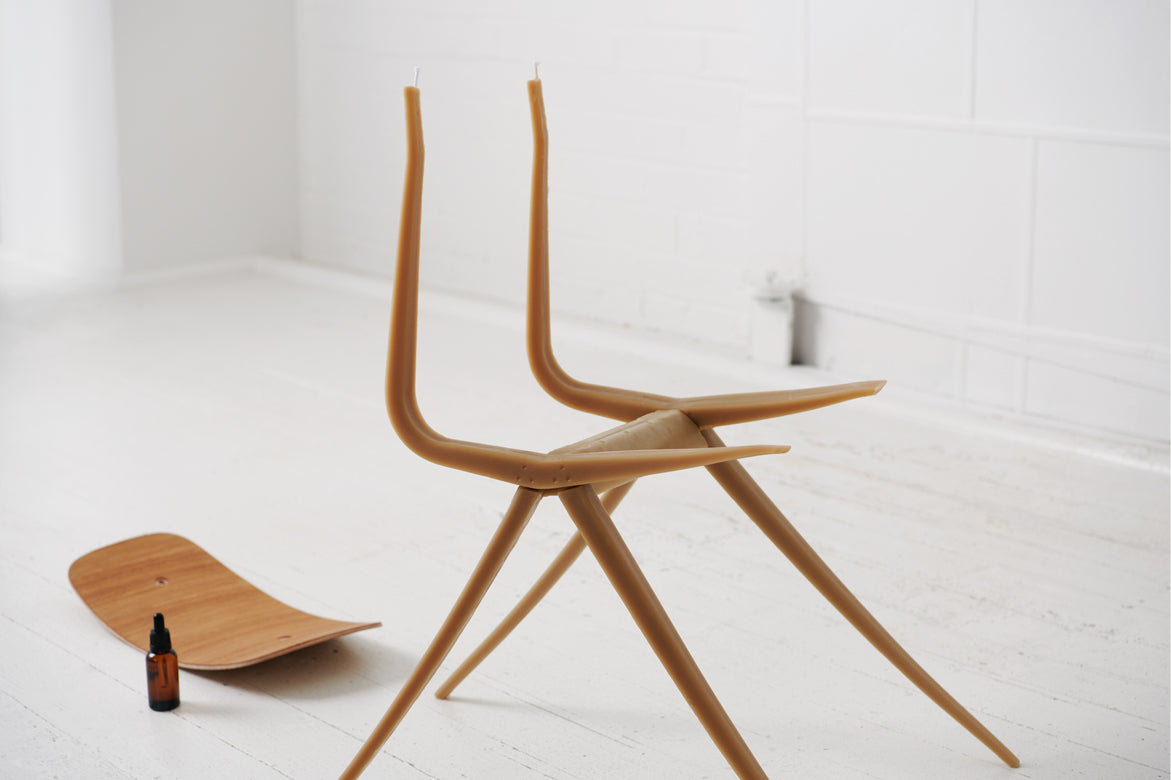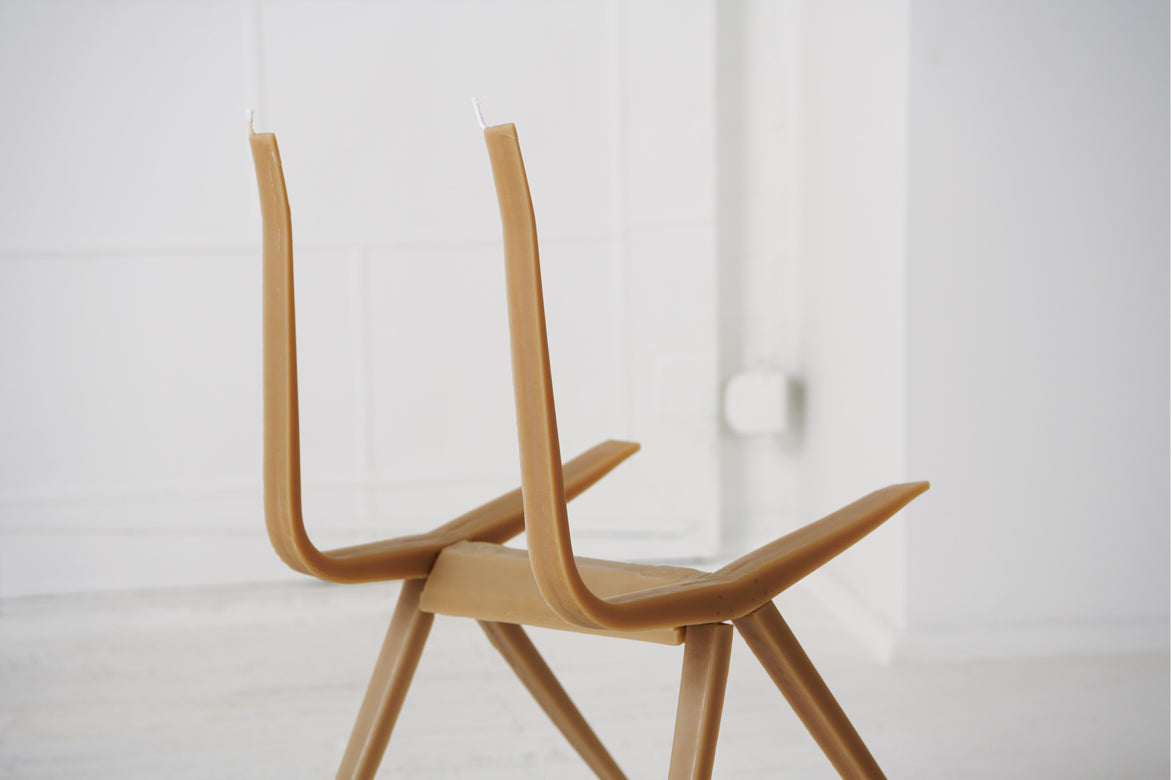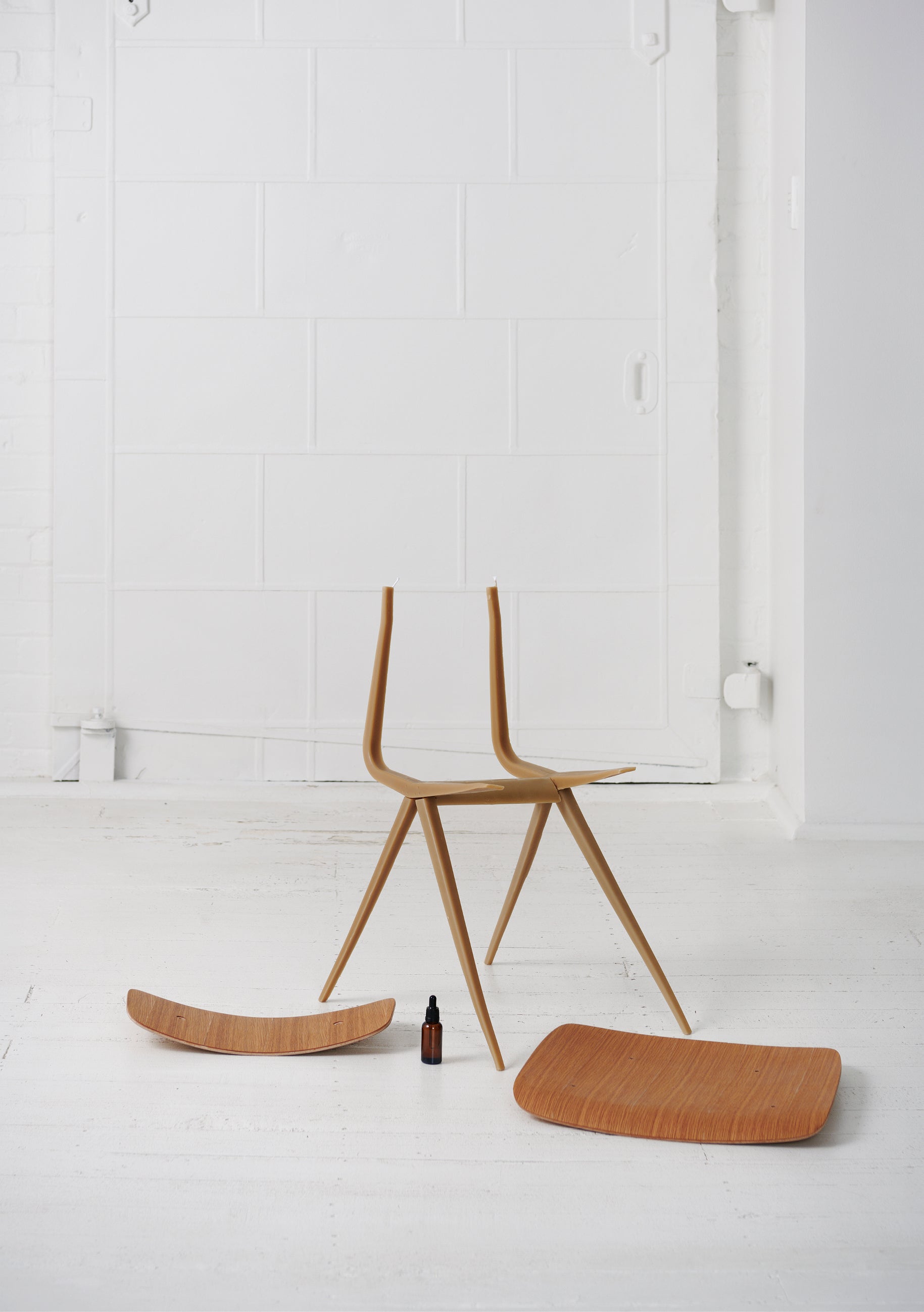 Made with Australian beeswax, this design shines a light on the role bees play as a keystone species in our ongoing survival. 

The chair is fundamentally anchored in the concept of "presence". It can be viewed remotely of course, at its most fundamental level, to experience its utility, you need to take a seat.

The metal frame is the key support mechanism that enables the chair to be enjoyed. I recreated the metal frame in raw Australian beeswax and turned each upright post into a beeswax candlestick. I chose raw unfiltered Australian sourced from local NSW farmers not only for its rugged beauty and subtle honeyed scent but, more importantly, to shine a light (sorry) on the role that our bees play as a "keystone" species in our ongoing survival.

One out of every three mouthfuls of food depends on bees pollinating our planet. They play a critical role in supporting us to ensure we have global food security.

While there are many factors contributing to the global decline in bee populations, loss of habitat through urban development and land clearing is a significant cause. When we think about urban design, "civic good" that comes from the inclusion of more bee habitat in both public and private spaces, from the smallest flower box to the biggest parkland, because every element ultimately contributes to greater global food security and protection of our natural ecosystem.

I coated the timber seat and backrest in a fragrance I created that tells the story of a coastal bushwalk in Australia. The scent includes lemon myrtle, eucalyptus, ginger and moss. It is fresh, familiar and both energising and uplifting.

To experience a fragrance and enjoy its beauty and functional properties, you must be physically "present" - in the room. Leaning in. Breathing in. Taking in the aroma molecules. It is therefore similar to the chair. The "civic good" flows from creating a functional fragrance (using plant-derived ingredients) that are designed to uplift and energise the audience's mood.
In the spirit of reconciliation Cult Design acknowledges the Traditional Custodians of country throughout Australia and their connections to land, sea and community. We pay our respect to their elders past and present and extend that respect to all Aboriginal and Torres Strait Islander peoples today.